Misguided Intentions is Author Codis Hampton II fifth book including Gracie Hall-Hampton, the Arkansas Year 1917-1953. 
"Take a step back in time from 1965-1975. It was an era of Civil Rights, the Vietnam War, sex, drugs, rock & roll, R&B and free love. The younger generation is looking to affect change in society, while the older, more conservative folks want to retain the American way of life." 
"Annie Lee Holmes is struggling to navigate the times. She's endured mean-spirited treatment that would have driven a weaker person crazy. One husband has walked out on her and his children. Another died suddenly leaving behind another child. Now that she has children and she often wonders what's next. Meanwhile, Annie is not quite sure how to be a human being…Much less a single parent." 
"Misguide Intentions paints a vivid picture and moving story of Annie Lee's life journey and its effects on her ever-changing personality as she learns to keep her eyes on where she's going ---not where she's been or is at the moment." CHII 
A 374-page winner that will keep you interested through the end. Available in all media formats. Go to https://www.amazon.com/s/ref=nb_sb_ss_i_1_15?url=search-alias%3Daps&field-keywords=misguided+intentions+by+codis+hampton+ii&sprefix=Misguided+Inten%2Caps%2C207&crid=1CY7FD29SQPMT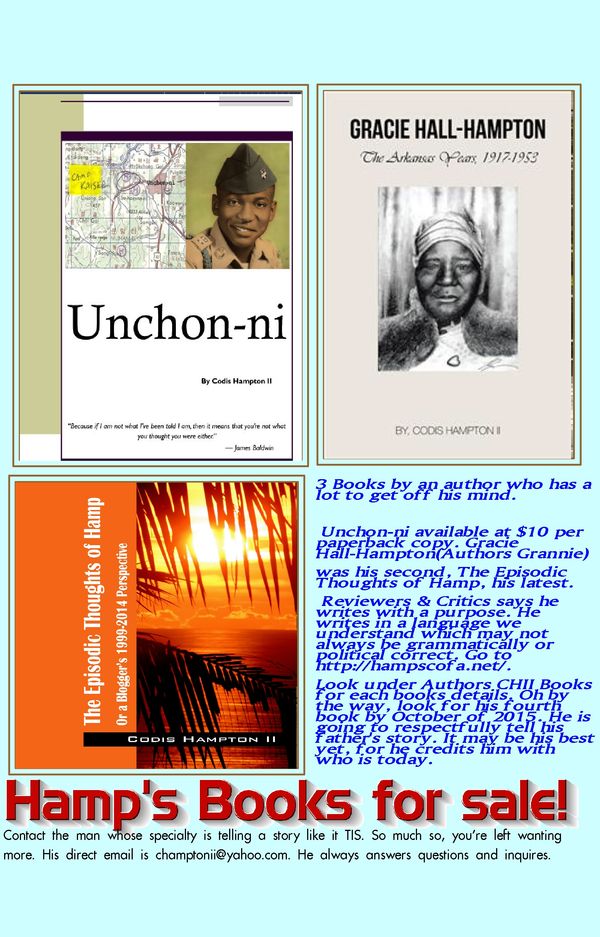 My friend Codis II Hampton is an author whose works you must read. Check out his latest project which is a compilation if His blogs. He also wrote two books which I could not put down, Unchon-ni, his autobiographical account of his tour in the army, starting at the age of 17. An amazing work!
His second book, Gracie Hall- Hampton, is the story of Codis' grandmother covering the years of her life in Arkansas from 1917-1953. I would stay up until the wee hours of the morning reading this one also! Codis is a very talented writer. Please support his work. We must support one another in order to start building wealth among ourselves!
       -Jay Light from Facebook.com.
The Episodic Thoughts of Hamp is now available in your iTunes Store. https://t.co/BiLiZDUoqD or from Amazon, Barnes and Noble, or the Publishers Author Page at http://outskirtspress.com/webPage/isbn/9781478746232
Blogs-Articles commentary on the 1999 thru 2014 political and social era for people of color. A great read as the Author tells it like it is, was and might be in the future. Get your copy today.