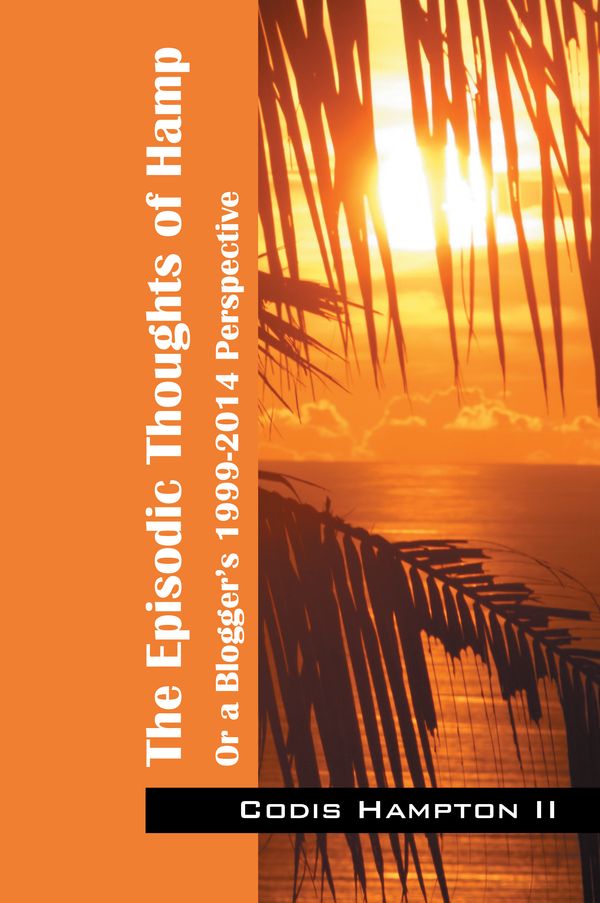 FOR IMMEDIATE RELEASE
New Episodic Thoughts of Hamp Offers Fly-on-the-Wall Insights on Movers and Shakers
Episodic Thoughts
treats readers to amusing observations on the private discussions of movers and shakers and lawmakers.
January 15, 2015 – Denver, CO, and Pittsburg, CA
– Two-time Author and blogger Codis Hampton II takes readers on a journey that's both personal and politically and culturally insightful with his newly released African-American and pop culture book,
The Episodic Thoughts of Hamp.
The book is published by Outskirts Press. 
The Episodic Thoughts of Hamp
is a timeless collection of articles about comparing ones individual lifestyle with notable and relevant people and events in the political, entertainment, social and personal realms from 1999 through 2014. The articles/blogs are written in an informative manner offering different viewpoints while highlighting the fallacies presented by the subjects of his writings. Hampton reports not just what is said, but points out the relevance of what is left unsaid, what should have been said – and what should have been done. Readers will find the subject matter relevant to their personal and business economic status in America. 
Hampton's creativity is on full display with his creation of a set of new characters, Kyle and Jamal in their own Blogs.  They are literally hip "flies on the walls" buzzing around Congress and other major newsmakers. Through Kyle and Jamal, readers are treated to amusing observations as they listen in and report on the private discussions of movers and shakers and lawmakers. Throughout
The Episodic Thoughts of Hamp
the author ties in the broader events to one man's upbringing, family relationships, internal and external personal issues, as well as black history to illustrate the relevance of the conclusions reached within these pages. 
Codis Hampton II is a blogger at
www.Katara-Rhythm.com
and Blog Talk Radio Host at
http://www.blogtalkradio.com/hampscornerofamerica
. Additional information about him and his work is available at these websites and at
www.Hampscofa.net
. 
The Episodic Thoughts of Hamp
is available online through Outskirts Press at
www.outskirtspress.com/bookstore
. The book is sold through Amazon and Barnes and Noble for a maximum trade discount in quantities of 10 or more, and is being aggressively promoted to appropriate markets with a focus on the social science, pop culture, ethnic studies and African-American studies categories. 
ISBN: 978-1-4787-4623-2           Format: 6 x 9 paperback cream           Retail: $16.95     
Kindle: $9.99           Nook: $9.99        EBook for iPad and iPhone: $9.99               
Genre: SOCIAL SCIENCE / Popular Culture / Ethnic Studies / African-American Studies 
For more information about
The Episodic Thoughts of Hamp
, visit the book page at the author's webpage,
www.OutskirtsPress.com/episodicthoughtsofhamp
. 
About the Author:
Codis Hampton II is a jack of all trades who's worked in the Department of Defense, as well as in self-employment ventures. His varied interests range from business and political commentary to creative arts such as acting, comedy, cartooning, and vocal and instrumental music. For more information about Codis Hampton II and his book, contact the author at P.O. Box 668, Pittsburg, CA 94565 or email
champtonii@yahoo.com
. 
About Outskirts Press, Inc.:
Outskirts Press offers full-service, custom self-publishing and book marketing services for authors seeking a cost-effective, fast, and flexible way to publish and distribute their books worldwide while retaining all their rights and full creative control. Available for authors globally at
www.outskirtspress.com
and located on the outskirts of Denver, Colorado, Outskirts Press, Inc. represents the future of book publishing, today. 
# # # 
Outskirts Press, Inc., 10940 S. Parker Rd - 515, Parker, Colorado 80134
http://outskirtspress.com
1-888-OP-BOOKS