Here are a few of my favorites. 

I've added the group that first turned me on to contemporary jazz, the one and only Jazz Crusaders.
We've mixed in a few old hits where the video is a little grainy but its the sound that rules as you will agree after you check them out.

 Then there is soulful sound of one of the greatest singers of our time, belting out a Isley Brothers classic. Once again one is moved by the sound of her voice and the accompaniment of Kenny G on the saxophone.

Another classic, "Summer Breeze sung by Laylah Hathaway and Big Bub with the bass guitar pickings of the late Wayman Tisdale.

 
 
Last but not in the least is my girl Anita. The lady sings her classic "Whatever it Takes." Ms. Anita Baker yawl.

  It is my intention to include classics here for your enjoyment. I may change up every now and then but manly want to get our internet browsers reaction to what is presented here. Let me here from you in the comment section at the bottom of the page. Hamp.
FOR IMMEDIATE RELEASE
Recording Artist Rich Tycoon Releases New Album Chapter 34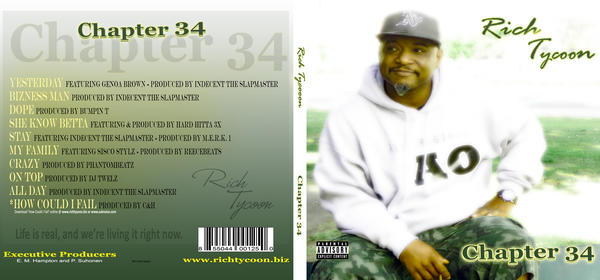 Rich Tycoon, the Oakland/Santa Cruz, Ca recording artist with Seattle ties has released his third studio album, entitled Chapter 34 via his own indie record label Street Wire Muzik and in association with Seattle based indie label SubNoise.com.
Chapter 34 stands out amongst Rich Tycoon's catalog in many ways.  His latest release, a solid 10 track album, has only 4 artist features and hosts Rich Tycoon as the only rapper on every song.  The artist does an excellent job at keeping the listener's attention throughout Chapter 34 by showcasing various ranges of delivery, using creative lyricism, and by rapping about a variety of topics.  All this accompanied with outstanding production, groovy song flow, and a bonus track, How Could I Fail that drops a week after the album's initial release, makes Chapter 34 Rich Tycoon's best album so far.
Chapter 34 is Rich Tycoon's second full length album release this year.  His first album, entitled Rich Tycoon was released back in January 2014.  On February 14
th
he released Stay featuring Indecent the Slapmaster as Chapter 34's first single.  Stay, an apologetic love song, was accepted well by many deejays nationwide.
The album's second single, My Family was dropped around Mother's Day, and immediately touched the hearts of many Rich Tycoon fans, as it showed growth in Tycoon's mind state and attitude.
Featured artists on Chapter 34 are Vallejo, California's Indecent the Slapmaster and his protégé up and coming artist/producer Hard Hitta 3x.  Extremely talented vocalist and instrumentalist Genoa Brown joins Rich Tycoon on Yesterday, and the beautiful background vocals of Sisco Stylz helps make My Family warm and heartfelt.
Chapter 34 takes listeners through three stages of Rich Tycoon's crazy life; past, present, and future.  Each song is its own, and highlights the artist's originality and uniqueness.
_____________________________________________________________________________________________________________________________________
Listen to Chapter 34 via
www.richtycoon.biz
Chapter 34 will be available on iTunes, Amazon, and other online retailers later this week.
*The album's10th song, 'How Could I Fail' will be released on 12-17-14.
Dj's & Bloggers send requests for a complimentary copy to:
frontdesk@blackbizness.net
Rich Tycoon is now booking and available for interviews.
Please contact:
frontdesk@blackbizness.net
Official web page: www.richtycoon.biz
Twitter: @mr_rich_tycoon 
---
A word from the artist:
'I came into Chapter 34 in transition.  I was ready to give up on the music that raised me…the music that had made more of an impression on my life than life itself... 
Chapter 34's creative process ended on this note:  No more lies. No more hate. No more games. No more jail time.  I understand who I've been, I know who I am, and from this chapter forward my story is only getting better.'
 

-Rich Tycoon-